Local Attractions...
...in and around Wensleydale in the Yorkshire Dales
Please select any picture below for a larger view
This page includes several sections. Please scroll down or use the links below to jump straight to the different sections:
Askrigg | Eating Out |Wensleydale & Area | Photographs of the Yorkshire Dales | Links to other useful websites
(Please note that all links to other web sites on this page open in a new browser window)
Askrigg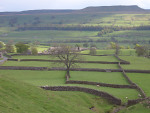 Askrigg stands in the heart of the Yorkshire Dales National Park in Upper Wensleydale and is ideally placed for walking and touring. Its two and three storey stone houses and cottages line the main street, with the 15th century parish church of St Oswalds in the centre of the village in the old cobbled market place, complete with its market cross and an iron bull ring set into the cobbles.

The village has three pubs - The Kings Arms, The White Rose and The Crown, all of which provide excellent food, catering for a range of tastes and pockets. We also have a village shop, two teashops and a deli/bakery which supplies delicious home cooked food which you can buy by the portion.
Eating Out
Close by Thornsgill House are
The Crown (just a few steps away)
Traditional country pub. Good ales, good hearty food and proper puddings, all at reasonable prices. Telephone 01969 650387
The Kings Arms (about 100 yards away)
If you remember "All Creatures Great and Small" this pub featured as "The Drovers Arms". More varied and adventurous menu which you can enjoy in either the bar or Pratt's Restaurant. This is popular with both locals and visitors so we suggest you book if possible. Telephone 01969 650113.

The White Rose Hotel (about 80 yards away)
Small family run hotel in the middle of the village that serves light bites, bar meals and also has an a la carte restaurant using excellent local produce. The food is very good here and the real ales are always worth a try! Telephone 01969 650515 www.thewhiterosehotelaskrigg.co.uk
Yorebridge House (on the outskirts of Bainbridge on the Askrigg side and about one and a half miles away)
Opened in January 2008, the owners of this hotel-restaurant-bar, David and Charlotte, are striving to create the Yorkshire Dales' finest luxury boutique hotel. The food is excellent and the surroundings luxurious. You can book a local taxi so that you can safely enjoy their extensive and eclectic wine list and a hearty range of Whiskies, Cognacs, Armagnacs, Rums, Bourbons, Ports and Grappas. The Cask Ales are locally brewed and they also offer an exciting and enticing range of cocktails. Telephone 01969 652060 www.yorebridgehouse.co.uk

Sykes House Local shop
The little shop holds a surprising amount of choice for a small village shop and they also have the daily newspapers available. Telephone 01969 650535
The Bakewell
Coffee Shop with home cooked food made on the premises. Telephone 01969 629 296


Out and About in Wensleydale and the Area
Two typical Dales views

The many field barns are a feature throughout The Dales...


(photograph © Yorkshire Tourist Board)


...as are the miles of dry stone walls.

Other attractions nearby include the Wensleydale Creamery where you can see the local cheese being produced; travel back in time to the castles at Middleham with its connections with Richard lll and also at Castle Bolton (pictured right); enjoy many of the numerous waterfalls including those on the Askrigg waterfalls walk and at Aysgarth, Hardraw, West Burton and Cotter Force (pictured below); marvel at the scenery from the Settle-Carlisle Railway and go underground to explore the caves at Ingleton and Pateley Bridge.
Photographs of the Yorkshire Dales
We include here a little gallery of photographs of the area. If you haven't visited the Dales before, then we hope these will give you some idea of what a beautiful area this is! If you are already a lover of the Dales, then we hope they will spur you on to visit again!
Photographs of the Yorkshire Dales

A gated road betwixt Wensleydale & Swaledale

Another view on the pass between Wensleydale & Swaledale

A view down into Swaledale


(photograph © Yorkshire Tourist Board)


Walkers in Swaledale


(photograph © Yorkshire Tourist Board)


West Burton Force


(photograph © Yorkshire Tourist Board)


Cotter Force (Cotterdale)

Appersett Viaduct

Appersett Viaduct
Other Useful Web Sites
We provide below (in no particular order) links to some other web sites which you may find useful when planning your holiday or short break in the Yorkshire Dales. Please note that these are external web sites and Thornsgill House accepts no responsibility for the content of these sites. Each link opens in a new browser window - simply close that window to return to this page.
Paul Fowlie Squirrel Photography
Organised workshops with hides, Tutorials on how to take that perfect photo.
The Bake-Well Cookery School
01969 629296 | Email: thebakewell.askrigg@gmail.com
Small groups having fun learning to Bake, or how to cook a special meal to impress your friends. Sandwiches or Filled rolls can be made to order for packed lunches to take on your walk.
The Yorkshire Dales by Eagle Intermedia
information from Eagle Intermedia, including history, photographs and more...
The Yorkshire Dales by Daelnet
Daelnet's site about "The Jewel in the Crown of Northern England" - full of news, views, photographs, information and more...
W R Outhwaite & Son, Hawes Ropemakers
Where you can see ropes being made the traditional way.
Wensleydale Creamery
Where you can see Wensleydale Cheese being made, learn about the history of cheesemaking in Wensleydale, and visit their shop and café.
Yorkshire Dales National Park Authority
Their official site offers lots of local information.
Kettlewell aka Knapeley in the film Calendar Girls
The film of 2003 featured a cast of fine British actresses - including Dame Helen Mirren, Julie Walters, Penelope Wilton and Annette Crosbie - as the women who appeared in the "Alternative W.I. Calendar". It was filmed in and around the Yorkshire Dales National Park. The real village of Kettlewell, in Wharfedale, was the location for Knapeley in the film.
Why not take a train ride on the famous Settle-Carlisle or Wensleydale Railways?
Both the Settle-Carlisle and Wensleydale Railways provide invaluable links for the communities they pass through. The Settle-Carlisle is part of the National Rail Network, and the nearest station is at Garsdale. The Wensleydale line runs down the dale from Redmire to Leyburn, Bedale and Leeming Bar. Both sites offer a wealth of information about travel opportunities and local attractions.
Swaledale Woollens
On a circular tour of Wensleydale and Swaledale, be sure to stop off at Muker in Swaledale and pop in to their shop to see their range of high quality hand and machine knitted garments produced in the area.
Walkingontheweb
Walking in europe an overview of walking routes across europe including national trails, grande randonnee, alta via, sentiero, maps, walking festivals, walking holidays, walking equipment...
The Inn Way
76 miles, 6 days, 26 pubs. Mark Reid's highly acclaimed guidebook - The Inn Way.to the Yorkshire Dales - charts a 76-mile circular route throughout the heart of the beautiful Yorkshire Dales. The walk is divided into six stages and passes 26 traditional Dales inns. Complete with foreword by Luke Casey from Yorkshire TV's 'The Dales Diary'. Askrigg features as an Overnight Stop along the long distance walk - The Inn Way... to the Yorkshire Dales - and Thornsgill House features in the free Accommodation Guide that is sent out with the books.
The Ramblers Association
Masses of information for walkers.